We're Getting Mutants in the MCU - The Loop
Play Sound
!! This are really outdated informations, please feel free to update this page with correct informations about Claim-system in LIF:YO
Land claims are sections of in-game terrain that are owned either by individual players or by guilds. There are three types of claims in the game: Personal Claim, Town Claim and Realm Claim.
Erecting a Monument
[
]
Building Private Monument
[
]
In order to create a Private Monument, right click on the tile, select Authority → Claim Land → Private Monument, which will mark your claim territory. In Life is Feudal: MMO You need to have 1x copper coins in your inventory to begin the process and further amount of copper coins to feed the monument. In order to get copper coins, you need to trade with the Crown at the trading post. Detailed instructions on copper coins aquisition can be found here
Building Guild Monument
[
]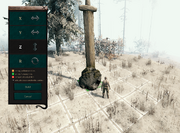 In order to create a Guild Monument in Life is Feudal: MMO, the player needs to be a leader of a guild (Order) that consists of min. 10 players. Once that requirement is met, right click on the tile, select Authority → Erect the Monument, which will mark your claim territory. Interacting and managing the guild is done via Monument (Right click on Monument, Authority → Manage the Claim/Worship the Claim) and a website guild panel in Life is Feudal: MMO.
A new monument must be placed 102 tiles from any server border, 124 tiles from any guild monument, and at least 22 tiles away from any personal claim. There is a two tile buffer for claims that you have permissions to as well.
General Overview
[
]
Only guild members can interact with objects on claim territory, although personal ownership overrides claim permissions (you can ride your horse onto any claim, unmount and have 2 minutes to get back on it). If you see any intruders - use Trespassers! ability and they will be assigned as criminals.
Claim prevents decay on any objects on its territory.
To see claim territories - press F4, ctrl-F4 will enable permanent vision.
Radius of claim territory depends on the durability of Monument, its level, and its support points.
There are four levels of Monuments - from basic to Glorious, which differ in claim radius and requirements for sacrifices. You will always start with a basic Monument; other levels are reachable through sequential upgrades.
To maintain your claim you need to sacrifice items, which can be done through 'Manage the Claim' (if you are the leader) or 'Worship the Monument' (if you are a member). There is a sacrifice window and button in the abilities windows. Place items in that window and select Sacrifice.
Every item has its own price. Monuments of different levels have different minimal item price, which they will accept.
You can sacrifice different items in order to get support points for a Monument. Sacrificing is very important; lack of support points will degrade 'Monument' or even erase it with the claim. The bigger is monument, the more complex items you have to sacrifice.
To upgrade 'Monument' you should maintain it with support Points cost +1 for every maintenance (which happens every night). You will see growth of your Monument via progress bar in 'Manage the Сlaim window', once the progress bar is full, you can upgrade the Monument to the next tier by selecting it.
The Leader of the Guild can destroy any object on Claim territory (Right click, Authority->Destroy Object).
The Leader can also give permission to destroy any objects on Claim.
Guild Claim Size and Type
[
]
Any guild, regardless of their status as a "Kingdom" or "Vassal" will be able to obtain the maximum size, tier 4 monument.
Guild Claim Permission System
[
]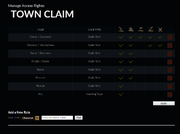 Each claim allows extensive modification of claim permissions for players set by the claim owner or guild leader:
Guild claim only - Rights for each of guild roles (count, viscount, baron, knight, reeve, peasant, recruit)
Rights for standing types (war, hostile, neutral, friendly, ally)
Individual permission for specific guilds
Individual rights for specific characters
In Life is Feudal: Your Own, Guild and Claim management is done via the Monument and console commands
In Life is Feudal: MMO, Guild and Claim management is done via the Monument and the website.
Judgment Hour
[
]
During judgment hour (YO) the "Realm" claim becomes vulnerable to attack from guilds that have declared war on your guild. Activities such as trespassing will not affect their alignment and they can loot and destroy any object/building on the "Realm" claim.
For more information, see the Judgment hour (YO) page.
Guild Claims
[
]
Personal Claim
[
]
From 1 up to 100 tiles in area (size limited by authority skill). The size of a personal claim is a parallelepiped with an 18 tile diameter (9 tile radius) while having max skill (100 tiles).
A plot of land that is the private property of a certain character, all movable and unmovable objects within that type of claim are protected from any damage and can only be used by the owner of that claim or other players that have received access rights from the owner.
In the event of a war between claim owner's guild and attacker's guild, objects on a personal claim may be used and damaged.
Trespassing on a personal claim can be punished by a loss of 1 alignment point. Note: There is no delay between when you call 'Called for Trespassing' and when the -1 alignment is applied. In order to be called for trespassing, the owner of the claim must use one of two commands to mark an individual as a trespasser, or an AoE effect that may mark all individuals not marked as allies/friends as trespassers.
Guild claims may extend or grow over personal claims, which will then control the personal claim. When guild claims are vulnerable from war conditions, any personal claim on the guild claim will also be vulnerable.
Town Claim
[
]
The "Town" claim is where a guild will have most of its buildings and valuables. Everything on the town claim is safe and cannot be looted or destroyed.
The town claim always has a radius of 20. Total area is 1256 tiles.
Realm Claim
[
]
The "Realm" claim is where a guild will have mostly only have farming fields and trees for logging. Everything on the realm claim is vulnerable during judgment hour.
Colliding Claims
[
]
Guilds situated next to each other are competing for Realm Claims. A guild with more support points in their Monument and with a higher level of the Monument has a higher pressure. In such case, the result is that all guilds situated next to each other with their claims colliding have less realm claim lands in the area where they collide with each other and they all suffer some losses. Once they have an equal level, they will affect each other with equal pressure. Town claim zone is never affected by this mechanic and always occupies same space (20 tile radius). This means that it is better to have your most valuable assets in the City (Town) Claim, protected by high walls, while less valuable resources, farms etc are on the Realm Claim.
Destroying Claims
[
]
Rules that allow destroying Claims differ on Red Worlds and Green Worlds. Refer to this part of Major Update guide for details on the new game mechanics.
Distance between Claims
[
]
The minimal distance (tiles) between claims, outposts and server borders are shown in the Table below. You can't build a claim or outpost closer than the minimum value.
| | | | |
| --- | --- | --- | --- |
| | Guild Claim Tier 1 | Personal Claim | Outpost |
| Guild Claim Tier 1 | 122 | 1 | 150 |
| Personal Claim | 1 | 4 | 13 |
| Outpost | 150 | 13 | 150 |
| Image | Name | Tier | Green world Town claim radius* | Red world Town claim radius* | Realm claim radius* | Total radius* (Influence Zone) | Minimal sacrifice item price | Authority Skill required | Maintenance point capacity | Maintenance point cost per in-game day |
| --- | --- | --- | --- | --- | --- | --- | --- | --- | --- | --- |
| | Monument | 1 | 20 | 1 | 15 | 35 (35) | 1 | 0 | 100000 | 149 |
| | Fine monument | 2 | 20 | 20 | 40 | 60 (60) | 10 | 0 | 300000 | 317 |
| | Great monument | 3 | 20 | 20 | 65 | 85 (120) | 50 | 0 | 700000 | 7845 |
| | Glorious Monument | 4 | 20 | 20 | 80 | 100 (150) | 100 | 0 | 1000000 | 17665 |
* Radius values are measured in in tiles.
Image
Name
Maximum claim size* (premium)
Minimal sacrifice item price
Authority Skill required
Maintenance point capacity
Maintenance point cost per in-game day
Private monument
100 (150)
0
1000000
2-25 tiles 50 points/tile,
26-50 tiles 100 points/tile,
51-100 tiles 200 points/tile,
101-150 tiles ??? points/tile
* Number of total tiles.
Life is Feudal: Your Own Differences
[
]
In Life is Feudal: Your Own the claim mechanics are a lot simpler.

~Howard