The Sandman Will Keep You Awake - The Loop
Play Sound
Players begin on the Newbie island, also known in-game as Illa-Newydd. You can follow a chain of quests to familiarize yourself with some of the game mechanics or transfer to the main continent, Abella, immediately. A player can, theoretically, live on the island without going to Abella, however, all the buildings and terraform on Illa-Newydd are wiped regularly so it is not recommended. Also character on Illa-Newydd has a lowered skill cap of 200 (+bonus from Intellect).
Character transfer
[
]
If you finished or skipped the quest chain, you can go to the Ferryman nearby the village. His location is marked by a giant column of blue light. You can transfer your character to Abella if you have a Ticket to Abella in your Premium shop inventory.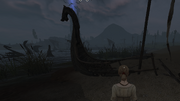 Note that each new account gets one such ticket for free. If for some reason you did not receive one, as you should, contact the support.
When you transfer you will be given an option to include a guest code. If you want to join a guild, this will allow you to teleport to them directly. Do not worry if you skipped this step − there will be a Traveler's Idol later that performs the same function.
When you transfer you will receive a warning that skills higher than 60 will be capped at 60. At the current time this is not true, this mechanic doesnt work. Also you will lose all the items in your inventory, so there is no need to prepare. However, it is recommended to eat before transfer as Hunger does not get reset.
Also it is possible to move between different copies of Illa-Newydd using the Ferryman. This can be helpful if you want to go through the quests with a friend.
Quest line
[
]
See Tutorial.
Easter eggs and lore
[
]
Reading the texts of the quests one can understand that Illa-Newydd represents the Death realm; however also Purgatory is mentioned. The villagers may somehow correspond to different Gods; the children hint that they are more powerful than you might think.
TODO...