m (Fixed private monument link)

Line 8:
Line 8:
 

Every [[#province|province]] can be captured and controlled by a [[guild]]. In order for a certain [[guild]] to get control over a [[#province|province]], it must issue and win an [[Battle|Instanced Battle]] against the current owner of the [[#province|province]]. Unclaimed [[#province|province]]s still need to be challenged by an [[Battle|Instanced Battle]], but [[attackers]] will be granted an auto win.

 

Every [[#province|province]] can be captured and controlled by a [[guild]]. In order for a certain [[guild]] to get control over a [[#province|province]], it must issue and win an [[Battle|Instanced Battle]] against the current owner of the [[#province|province]]. Unclaimed [[#province|province]]s still need to be challenged by an [[Battle|Instanced Battle]], but [[attackers]] will be granted an auto win.

 
 
−

Controlling of the [[#province|province]] does not provide any direct control over the [[fief]]s, [[outposts]] or other [[guild]] monuments that are within the [[#province|province]] borders. But instead, it allows for the controlling [[guild]] to automatically gather [[taxes]] from the [[monuments]], [[fief]]s and [[private claim]]s on this [[#province|province]].

+

Controlling of the [[#province|province]] does not provide any direct control over the [[fief]]s, [[outposts]] or other [[guild]] monuments that are within the [[#province|province]] borders. But instead, it allows for the controlling [[guild]] to automatically gather [[taxes]] from the [[monuments]], [[fief]]s and [[private claim]]s on this [[#province|province]].

 
 
 

===Capturing a province ([[Battle|IB]] mechanics)===

 

===Capturing a province ([[Battle|IB]] mechanics)===
---
Revision as of 14:50, 15 February 2019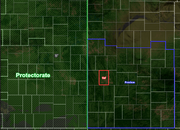 Province
A province is a union of ~50 neighboring fiefs. The province can be captured by a guild. Possession of a province grants the right to receive taxes from the fiefs within it but does not provide any additional rights. Each province has a name that is displayed on the map.
Province ownership
Every province can be captured and controlled by a guild. In order for a certain guild to get control over a province, it must issue and win an Instanced Battle against the current owner of the province. Unclaimed provinces still need to be challenged by an Instanced Battle, but attackers will be granted an auto win.
Controlling of the province does not provide any direct control over the fiefs, outposts or other guild monuments that are within the province borders. But instead, it allows for the controlling guild to automatically gather taxes from the monuments, fiefs and private claims on this province.
Capturing a province (IB mechanics)
See Instanced Battle
References